The theme for the MAGAM Challenge for March is "Moreish March". My interpretation of this is the More fabric the better! My garment choice for this fabric abundance challenge will be Vogue 9108 - a Marcy Tilton pattern.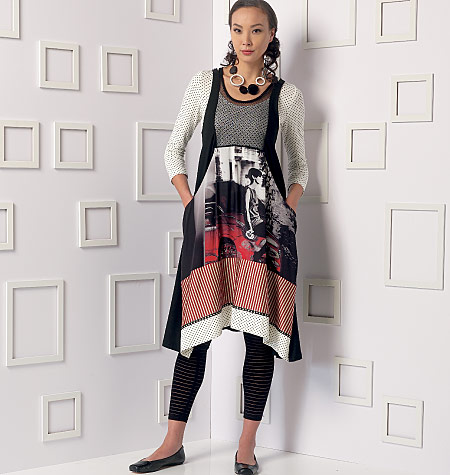 Using these various knits and trims from the stash, I'll see what I can create. I can't wait to get started on this one!
I have already started with my layout selection too. Using the sketch from the back of the envelope, I enlarged it on a copy machine to an 8.5 x 11 size.
Then I traced the drawing, got out the colored pencils, and started drawing. In reading the reviews on patternreview.com - the pattern runs large (so I'll go down a size or two and be prepared to take it in even more) and there is no bottom back panel included in the pattern as I've drawn in these pics. I'll be adding that piece to make the hem even.
Sketch number 5 is the winner. Now - we'll just see if I have enough of these fabrics to make it work. Some of them are pretty small pieces!
Until next time - Happy sewing everyone!
Star