Simplicity 2369 was my March project as part of the Make a Garment a Month Challenge and it's done! Yippee!! This is a mock-wrap dress with a tie on the left front. No zipper to mess with and no gaposis on the front neckline either!
For the dress, I used the top and longer sleeve from Simplicity 2369....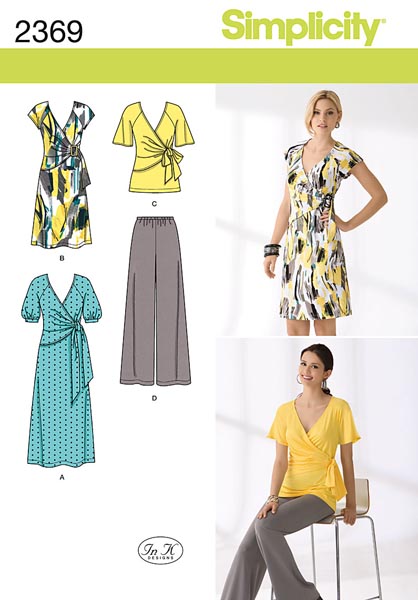 and combined it with the fuller skirt of Vogue 8784 - View A. I really like the fuller skirt on the Vogue pattern and thought it would fit my body style better than the "straightish" skirt on the Simplicity one.
Besides - it twirls better too!
I added 5 inches to the length of the dress, but ended up cutting that off when it came time to hem it. After the almost finished dress hung on my dress form for a few days, it gained a little in length and the 5 inches I added was way, way too much. The also cut off 2 inches from the sleeve length.
To help eliminate possible gaposis along the neckline, I fused 1" strips of interfacing along all edges of the neckline. This helps to stop the edge from stretching when the neck facing is sewn on. This is not a step included in the directions although it should be. To do this, lay your cut out fabric piece right side down on your ironing board. Next, lay your matching pattern piece on top of the fabric and make sure the neck edges line up both in length and width. When you have the fabric matched so the same size as the pattern piece, remove the pattern piece and simply fuse the 1" strips of interfacing to the wrong side of the fabric along the neckline edge. It's ok if the interfacing pieces overlap a little bit.
My eyes were getting a bit crossed after lining up all of those circles, but I think it was worth it.
Overall, quite a successful dress and I'm sure I will make a few more. It is very comfortable to wear and doesn't require any ironing. Although I am one of those odd souls who kinda likes ironing.
This pattern will absolutely be sewn up again. I can see a few of the blouse versions and one more dress in my future. Next time, I will lengthen the shorter tie and maybe shorten the longer tie. I might even try the dress without the fuller skirt. We'll just have to wait and see!
Until next time -
Happy Sewing!