Here's my latest Stashbushin' Project and I just love it! A new skirt pattern from McCalls 6966, pictured below.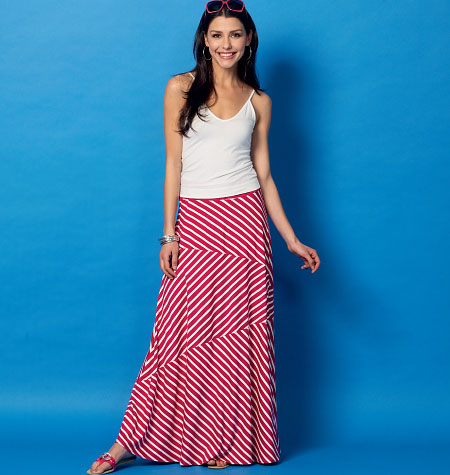 Here's the line drawing: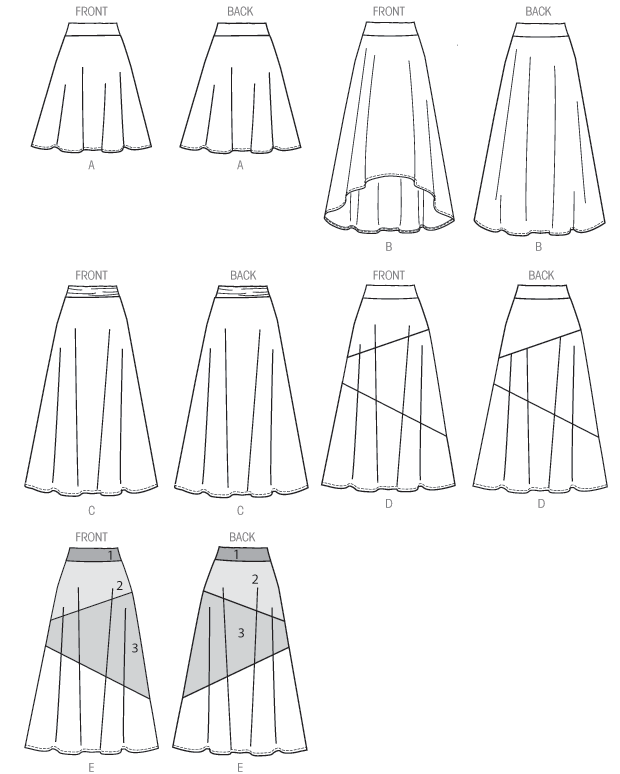 I made view E - the one with the different fabrics for each section. This skirt is meant for knit fabrics and I was able to use 4 different knits I already had without having to buy anything!
At first, I wasn't starting out to good. I wasn't happy with the way everything looked because it just looked to plain. Even though it was different fabrics, it was still missing something.
So I got out my boxes of ribbons and trims and starting playing and here's what I came up with.
Here's a description of everything. All of this was already in my stash too so I was quite excited - especially to use the printed elastic. I bought a bunch of this stuff in different prints and colors a year ago and it's been sitting around awaiting a use. Finally, a project that would work with it! I needed something stretchy for the top layer since this is nearest the waistband and needs to stretch in order to get the garment on and this worked out perfectly.
And here's the finished product! Yippee!
Just by chance, I managed to get the Ric Rac to line up as well.
And the other side too.
And here's the back.
And this has to be my new favorite elastic waistband technique. Can you see the elastic in here? I don't think so. To make this waistband, you will need 4 pieces of fabric - two for the front and two for the back. Sew these pieces together front to back at the side seams (on one set - leave a small 1/2" opening on one of the side seams about 1/4 down from the top). Then with right sides together, sew both pieces together 7/8 inch down from the top of the waist - all the way around. Next, sew them again 1/4" away from the top of the waistband. This will form a casing. Next, insert your elastic, sew up the small opening and then turn right side out and the elastic is enclosed between the two layers. It's like magic!
I'm up to 19.375 yards of stash fabric sewn. 10.625 yards to go to hit my 30 yard goal! I'm almost there!
Until next time - Happy Sewing!