I was very excited when I saw this skirt in the Simplicity catalog this summer. Sure - it has alot of things going on at one time, but I was drawn to the interesting design. And, I had the perfect fabric to experiment with - a wonderful turquoise lightweight linen from a "Brown Bag Challenge" from my local sewing group.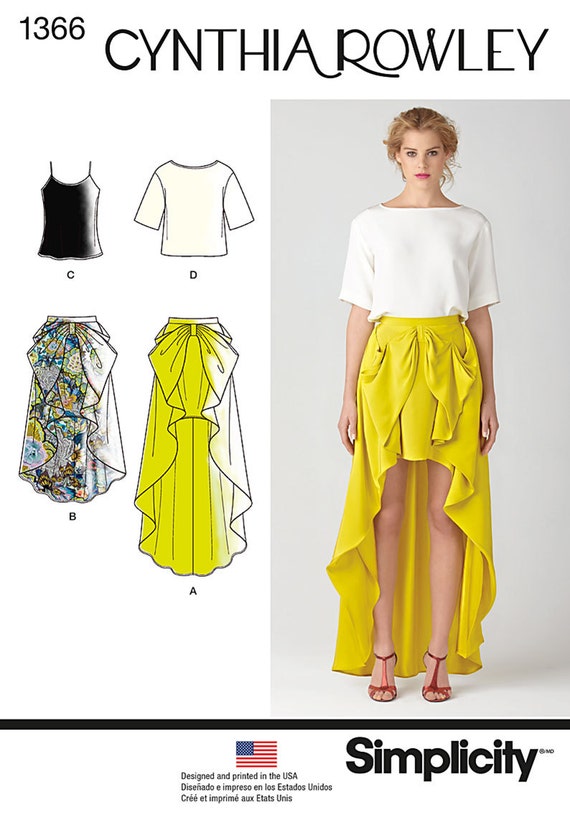 What's a Brown Bag Challenge you ask?? Let me explain. I've mentioned previously that our sewing guild chapter has an annual garage sale. Of course at every garage sale, not everything is sold and the remaining fabric is distributed to various charities in the area. A few of the "lovely" pieces (I say that sarcastically) are saved for our small group to do a challenge project with. Each "lovely" piece is placed in a brown paper bag and everyone in the group gets a chance to select one - without peeking of course and we are given two months to sew something from whatever was in our bag. We make a game of it by being able to steal someone else's fabric when your number comes up and of course I stole this one from another member of our group (sorry by the way!). Our projects are due this month so I'm glad I finished in time. I can't wait to see what everyone else comes up with - we have some very creative people in our group. If you would like to see what I made last year for this challenge, please click here.
Anyways, back to this project. The yellow skirt on the pattern envelope above was way, way to short in the front for me, so I modified the pattern by lengthening the front by 8 inches and shortening the back by 4 inches - tapering them both to meet at the sides. After I got the challenge fabric home and pre-washed it, I noticed there was a stain in one area that would not come out so I had to work around it. Plus, I did not have enough fabric to double the front flap pieces as the pattern suggests so instead, I just sewed them in a single layer with a small rolled hem on the top and bottom. This seemed to work out just fine. Here's the first attempt with the front flaps pinned in place. Looks kinda ok from the front....
Yikes - but as I started to turn around - my derriere was looking huge! (Notice the side seam points towards the back as well - I'm come back to this later)
OMG! Does this make my butt look big?!?! I think so!!! The pattern calls for a total of 6 pleats across the back which in my case, was not a good thing. I even tried pressing them flat and it didn't make a difference.
I mean really, who wants this much fabric back here??!?! Maybe, just maybe if my fabric was a little more drapey it might work, but this linen was shouting loud and clear that there was way, way too much fabric. So, out comes the seam ripper to remove that invisible zipper and rework the back.
I opted to make the back more fitted. I removed 6 inches from each center back piece (for a total of 12 inches) and added two fitting darts (one on each side). Ahhh, this is looking much, much better.
The side seam still points towards the back, but maybe just a little more exaggerated now that the back is fitted.
And here's the finished product. I really don't like this straight-on view, but it gives you a better idea of the draping on the front flap pieces. The pattern suggests that you tack the flaps in just two places, but I didn't like the look of that and opted to tack it in 3 places.
Another view - you can see more of the draping here.
Another view.
Back view - The zipper really is straight - I think I'm just standing funny in this picture.
And a view without the sweater. I need to make a white t-shirt to go with this so I can wear it to work.
Overall, I'm pretty happy with this skirt - it's a unique, one-of-a-kind design. I'm sure the linen will wrinkle like crazy the first time I wear it too.
Until next time,
Happy Sewing!