This is Vogue 1098 - an out of print Anne Klein swing style jacket. The lined jacket has a nice V shape line to the front and back and very interesting sleeves - sort of an open curved ending to them - which I opted not to do this time.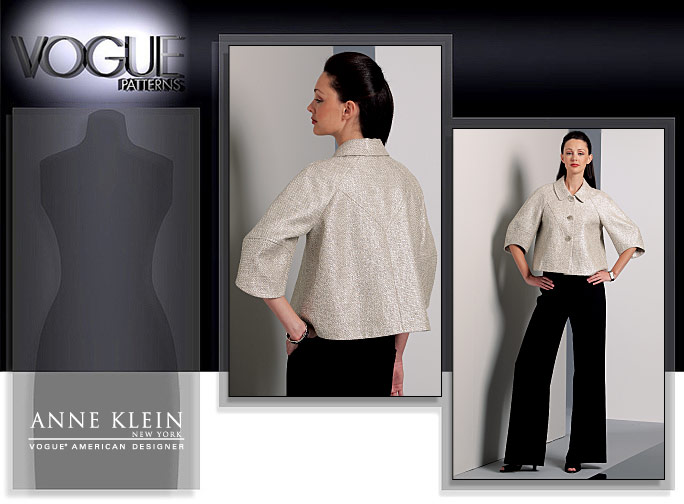 Here's a close-up of the fabric I used for my jacket. It's a wonderful wool that I picked up at Stonemountain and Daughter in Berkeley probably about 15 years ago. I love all of the different colors in it - especially the green.
My version of the jacket is a little different than the original. Although I like the style of the sleeves, I wanted the sleeves on mine to be straight so I left off the bottom rounded style sleeve ending and just extended the length of the upper sleeve.
My green/clear buttons on the front really are the same distance from the front edge - it's just an optical illusion that they aren't in the picture above since one side of the button is green and one side is clear and on top of that, I made the green side face different directions on each button.
Because the buttons are so large, I didn't want to do a buttonhole that big so instead, I opted to sew snaps behind the buttons to keep it closed. There is a small fabric covered snap behind the top edge of the right front as well - this helps to keep that little piece of fabric in the corner lay nice and flat as well.
See how nicely that little corner piece lays flat in the picture below?
The back has a nice V shape to it, which you can sort of see in the pic below.
The side view brings out the "swing" style more.
My lining is a bit mixed up this time. The skirt (still in process) took most of the lining so I only had enough to do the front and back pieces. I had some plain gray in my stash and decided to use that for the sleeves.
Here's the back view. The print lining I picked up at a store that resells fabric - kind of like a Habitat for Humanity Restore for the home sewer - What a great concept! I'm sure the fabric is some polyester left over from the 50's, but I love it!
That's it for now! Until next time - Happy Sewing!